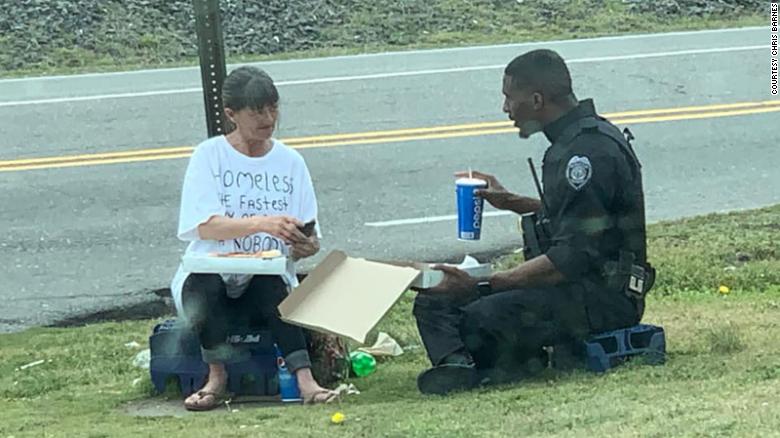 A true act of kindness Goldsboro Police Department in North Carolina, Officer Michael Rivers has been on duty for the last nine years and has come to know a lot of faces of the homeless, One day he came in contact with a homeless woman who he had never seen around the community. The first thing he saw was the shirt she had on which said "Homeless. The fastest way of becoming a nobody." So he put his window down from the car and the two started to look at one another. after a few seconds he drove away but something in Michael said to go back.
He later told CNN "God put it on my heart to get her lunch," and "So I turned around and I asked her, 'Hey, did you eat today?' And she said, 'No.'"
The next thing the officer did was go a grab a pepperoni and cheese pizza from a pizza shop not far away and went and sat down next to the homeless woman. Officer later said the pizza was great but the conversation was what he enjoyed most, Talking about their life stories.
The conversations they had were about her life and she has a 12-year-old daughter who is battling liver disease and its also in foster care, she also has a 23-year-old son. Her husband is also homeless and he was nearby across the street.
After they finished eating they both went their separate ways, But the police officer got something out of it which was people who are homeless are often shunned by society and blamed for bringing the situation upon themselves. and "It can happen to anybody." also added "homeless people are just people who are down on their luck,"